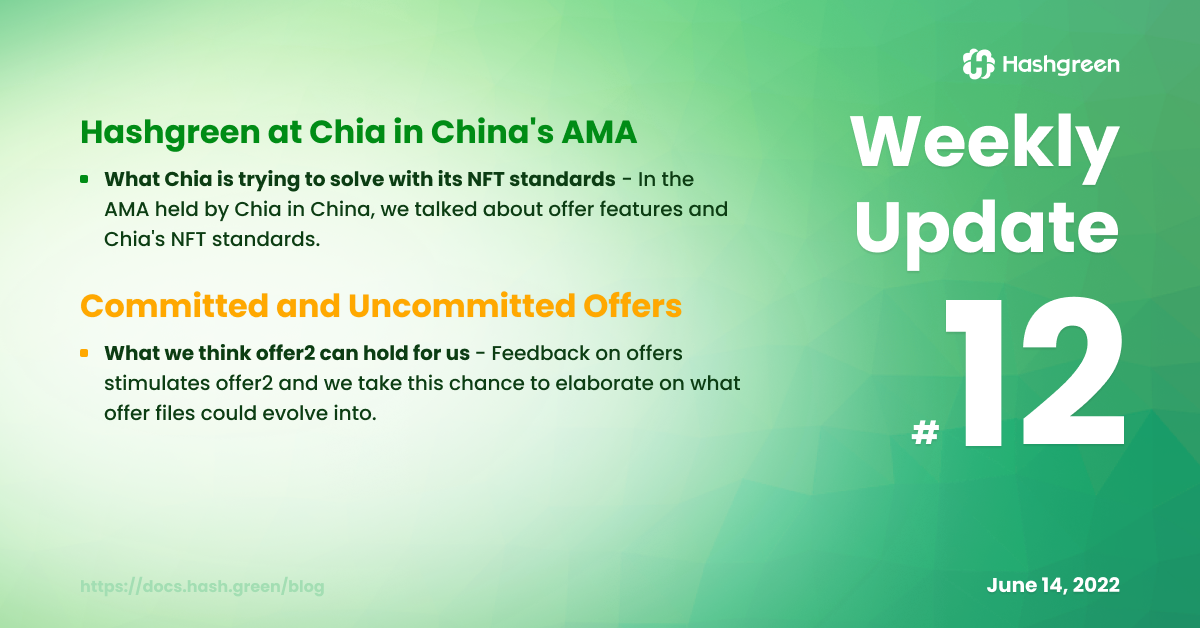 Welcome back to another Hashgreen's weekly update! Previously on Weekly Update #11 we talked about the design features that began to take shape for the AMM, hankering for the best outcome to our users and to the ecosystem. We also announced a few updates and a call for volunteer translators. If you are willing to help with the translation, please visit our Discord.
This week we will be taking you through two topics: the AMA we attended earlier this June and our thought and expectation for offer2 according to the feedback from the community.
Hashgreen at Chia in China's AMA​
What Chia is trying to solve with its NFT standards​
In the AMA held by Chia in China, we introduced our products and talked about offer features and Chia's NFT standards. Below are three factors we mentioned about Chia's NFT during the AMA, namely what Chia is trying to solve and realize with its NFT standards.
Autonomous offer trading: to trade without authorization from a third-party platform.

Chia does not need you to authorize a third-party platform to operate for you. This could fundamentally prevent users from getting scammed.

Decentralized Identifier (DID): to verify the authenticity and to prove the ownership.

Has it ever happened to you when you bought an NFT and later discovered that it was an impersonation scam? This is what Chia wants to solve with its NFT1 standard. DID is like a digital identification that confirms the authenticity. With such method, creators or project owners can have their NFTs connected with their DIDs, proving the ownership with the digital identity.

Royalty: to pay profit-sharing to the author of an NFT.

How many percent of royalty payment should be given to the author of an NFT is what Chia's figuring out and this is going to be one of the core ideas for NFT1.
Chia's NFT is definitely a worthy path to take and a pull factor that attracts developers, investors, and users to come, especially when there's a variety of paths such as DEX, NFT, and DeFi that people have embarked on to develop or build Chia's infrastructure.
Regardless of which path you are going to take or have taken, we, Hashgreen, are always pouring ourselves into helping these projects, including NFTs. Most importantly, providing a steady and strong base for Chia's community is what we expect and choose to do to allow all tokens in Chia to be able to trade.
Committed and Uncommitted Offers​
What we think offer2 can hold for us​
Offer files ("offers", "offer1 standard") have been one of the biggest drivers for the community activities in Chia, as it provides a p2p way for people to trade trustlessly and securely. As one of the first adopters of offer1, we love it so much that we start to think what we ultimately want it to evolve into based on the feedback of many DEX users. We heard these feedback:
Why does my attempt to fulfill the offer fail?

Ok, so this relates to how current offers are structured: they are not commitments on the chain to indicate token swap intentions, but merely a memorandum of understanding. The offer makers can withdraw their offers any second by spending the recorded coins in the offer, while you, the offer taker, have to check if the coin still exists beforehand.

Can we make this process better? Yes! In fact, the offers should be on chain with two possible exit paths: either via settled swaps or clawback after some timeout. You can be assured that the offer is still 100% valid as long as you peek into the coins and you know for how much longer they will continue to remain valid.

Is there a limit price I can put? Partial fill?

No limit price. No partial fills. Ouch.

This is most of our experience with the current DEX on Chia, and we understand it so much more. We would call it lack of feature rather than a bug for offer1, as the logic for limit price and partial fills are very custom to fungible tokens. The logic for offer1 is perfect, for example, for NFTs as they need to be exchanged in whole. We think a good offer2 design should leave rooms to house some custom logic, including things like "allowing transactions to go through as long as prices are above this price" and "self re-instantiation if certain conditions are met".
From an AMM building perspective, we think having an offer2 that satisfies the above criteria would allow an easier exchange of funds, thus increasing liquidity and capital efficiency in the Chia Blockchain. So, rest assured folks, while Hashgreen Labs continues to build on Chia!