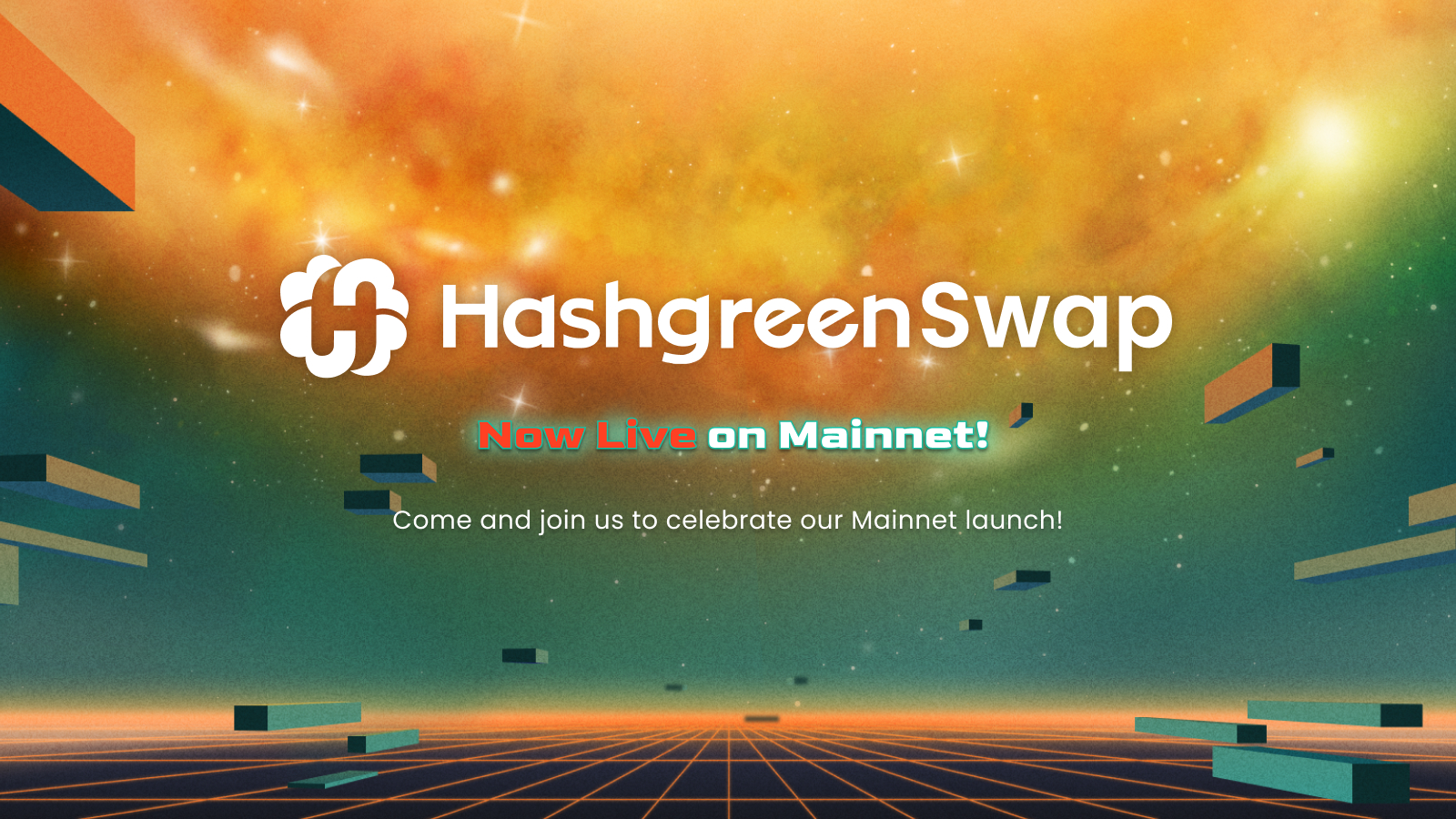 HashgreenSwap v1.0 is now live on Mainnet!
Come and join us to celebrate our Mainnet launch with the Mission Green Walker: Testnet Airdrop Claim event and easily add liquidity or create liquidity pools for your favorite tokens on HashgreenSwap!
HashgreenSwap v1.0 Release
We are thrilled to announce the long-anticipated release of HashgreenSwap v1.0. This release brings a significant wave of improvements, reinforcing our commitment to providing a more stable and user-friendly decentralized trading experience.
Mission Green Walker: Claim Your Rewards for Our Testnet Airdrop!​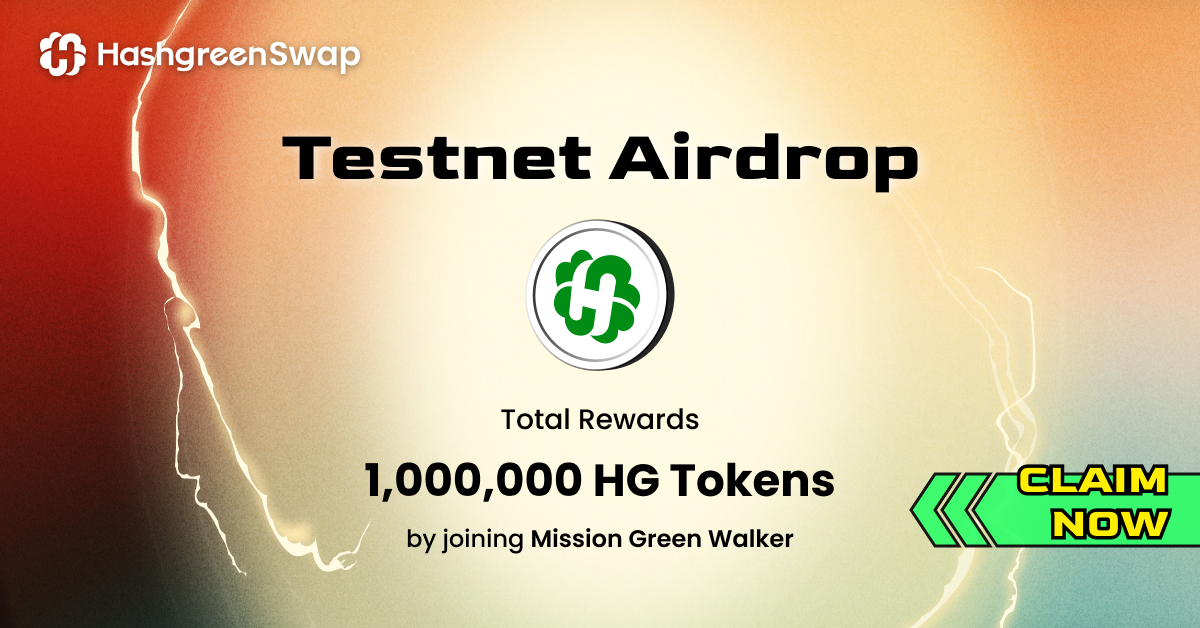 Dear green walkers,
In celebration of the HashgreenSwap Mainnet launch and as a token of our gratitude for your incredible support during the Mission Green Walker testing program on Testnet, we are thrilled to announce an airdrop with a total reward of 1 million HG tokens!
Eligible participants are those who actively engaged in our Mission Green Walker testing campaign between April 27th and August 31st. Claiming your rewards is simple; Please visit the campaign page here and follow the instructions below.
Step 1: Connect your Hoogii Wallet (make sure you are using the latest version) and share this exciting news on X (remember to set your account public).
Step 2: Paste the link of your tweet back on the campaign page.
These Mission Green Walker events are our heartfelt expression of gratitude for your unwavering support as we advance and innovate within the Chia ecosystem. The claim process will be open for one week, running from Nov 6, 2023 to Nov 12, 2023, as indicated in our recent Tweet. Stay tuned for more updates on our Twitter and Discord.
Technical Update—The Cycle of Building, Deploying, and Refining​
Software development involves an iterative cycle of building, deploying, and refining. Drawing upon the valuable feedback we gathered during Testnet, we were able to review what we had built and therefore set enhancing trading stability as our primary objective in order to deliver an optimized and secure experience.
Trading Stability Enhancement and UI/UX Update​
Refinements in the smart contract and the offer aggregator took place during this stage, so were those improvements in the user interface and the user experience design. You may not be aware of these changes in the first place, but they are the paved cornerstones that hugely contribute to the trading stability of HashgreenSwap.
info
Drop us a message to our Twitter or Discord and let us know how's your experience using HashgreenSwap. And if you are interested in the technical insights of HashgreenSwap, drop a message too! We may take this chance and shed some light on the topics of the smart contract or the offer aggregator.
Liquidity Pools Now Open!​
We're thrilled to present you a chance to easily add liquidity or create a liquidity pool for your favorite CAT paired with XCH on HashgreenSwap! Don't miss out on this exciting opportunity!
Providing initial liquidity requires you to abide by the following rules:
HashgreenSwap only supports XCH-CAT pairs now.
You must contribute an equal value of both tokens in the pair.
The ratio of tokens you add will set the price of this pair.
Be the trailblazer and give it a try here!
Open-Sourcing—HashgreenSwap Smart Contracts​
The HashgreenSwap smart contracts are the implementation of HashgreenSwap, an automated market maker (AMM) in chialisp language on the Chia blockchain. If you would like to verify the smart contract, please visit the GitHub repository here.
HashgreenSwap API Service​
If you are a more advanced user or developer interested in interacting with HashgreenSwap through an API, we recommend reading this documentation for the HashgreenSwap API Service, which can be found here.
Connect Wallet—Hoogii, Goby, and More to Come!​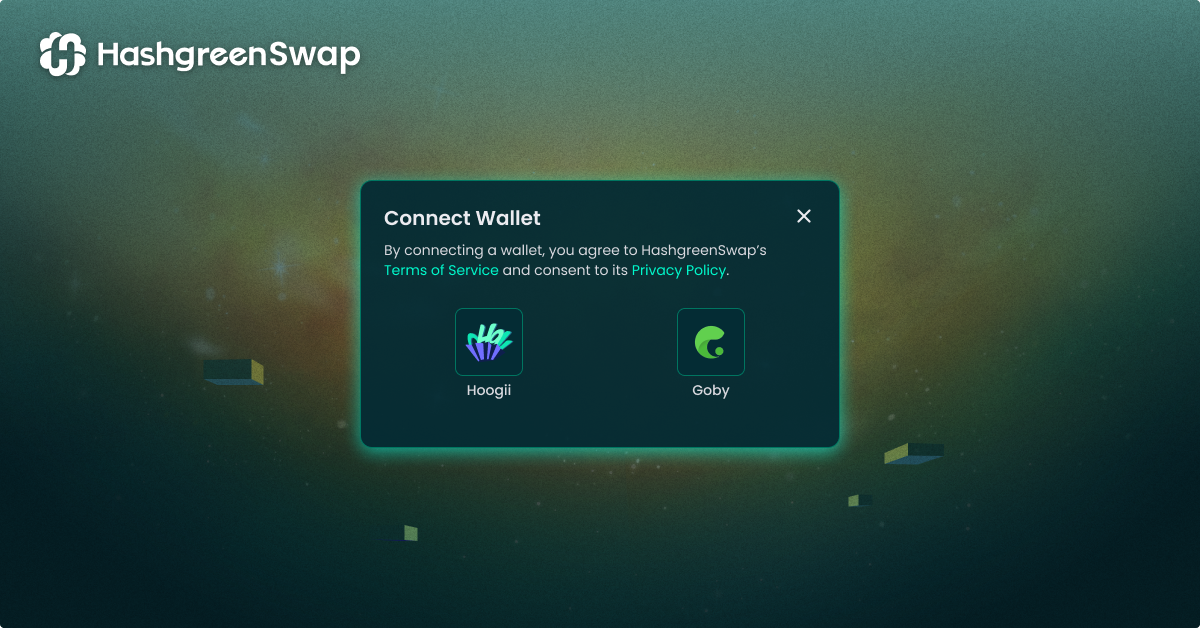 In this release, HashgreenSwap offers a wider selection of wallet choices for your convenience! During Testnet, we successfully integrated Hoogii Wallet as the initial connection for HashgreenSwap users. Now, we're thrilled to introduce even more wallets, providing you greater flexibility in managing assets on the Chia blockchain.
Hoogii is a fully open-source crypto wallet extension built on the Chia blockchain, available for download in Google Chrome Web Store.
Goby is an open-source browser plugin wallet for Chia Network. Goby currently supports Google Chrome and Brave Browser.
Select the wallet that suits your preferences and embark on your journey with HashgreenSwap! More to come…
Information Update​
The Landing Page and the Main Page​
Together with the Mainnet launch of HashgreenSwap v1.0, we've introduced several updates to both the landing page and the main page, providing the community with the most up-to-date information. Can you spot the differences? 😏
White Paper Update​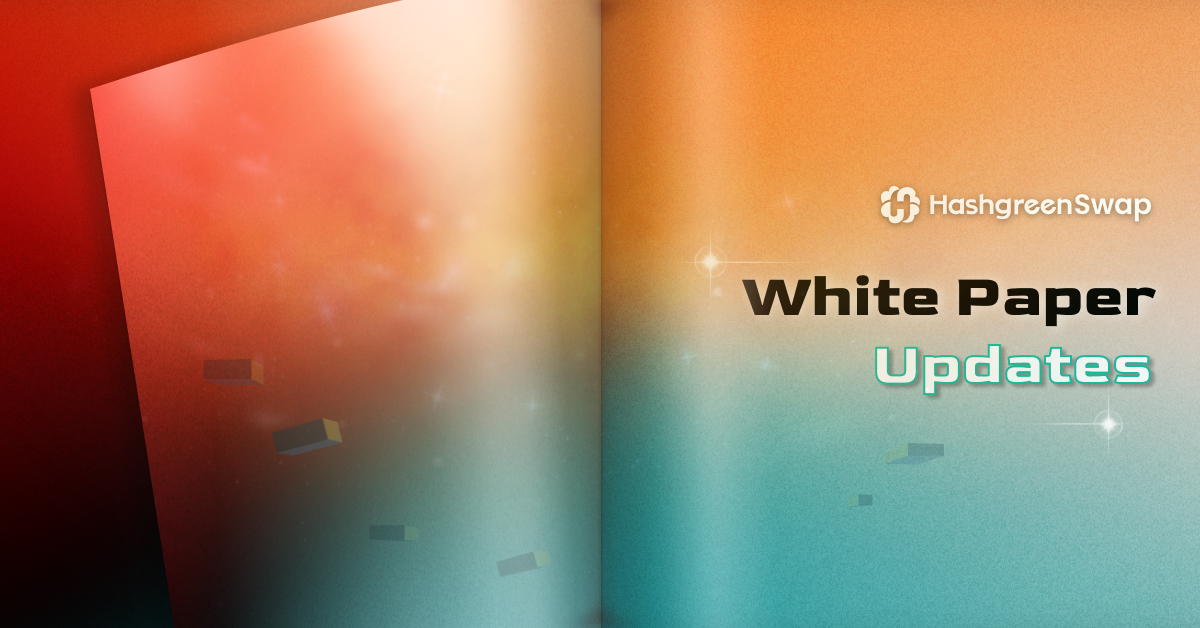 In this release, we've also had updates in the HashgreenSwap white paper. We've adjusted the trading fee on HashgreenSwap to 0.9% (0.3% will go to the liquidity providers as rewards and 0.6% will go to HG token holders), a change that aligns with our ongoing efforts to provide competitive and user-friendly services to the community.
Furthermore, our roadmap has been refined, ensuring the development remains on course. Our journey may have evolved slightly, but the overall vision and commitment to excellence remain steadfast. Visit the docs and check out the updates here!
Get Started with HashgreenSwap​
—Check out the complete user guide for HashgreenSwap.

We are delighted to introduce a series of instructional pages, designed to be your ultimate guide for using HashgreenSwap. These clear and straightforward instructions have been carefully prepared for you to follow. Take a look at how to get started with HashgreenSwap here!
Get Started offers a step-by-step instruction to help you onboard, guiding you through the process of creating a wallet, acquiring XCH or CATS tokens, and connecting your wallet.
On the How to Trade on HashgreenSwap page, we provide detailed instructions of interface operations for each core function, including token swaps, zap, adding liquidity, and removing liquidity.
Our Message​
It's been a significant journey of development leading up to the release of HashgreenSwap v1.0. It's incredible to reflect on the extensive work that has gone into optimizing and renovating only to give you a seamless experience.
We are excited to extend our invitation for you to explore HashgreenSwap, give it a try, and share your thoughts with us. We deeply appreciate your invaluable support as we continue our mission to deliver the finest experience on the Chia blockchain. Your continued support fuels our journey, and we can't wait to share more with you.
HashgreenSwap: https://hash.green/
Follow us on X: https://x.com/HashgreenLabs
Join our Discord: https://t.co/XycsnpDJbS
Follow us on LinkedIn: https://www.linkedin.com/company/hashgreen-labs